Written as part of my "Wanderlust" series – where I'm doing the planning now for travel later.
Portugal… home to the Portuguese tart (pastel de nata), port (it's in the name after all), fresh seafood, and Cristiano Ronaldo.
Of all the Western European countries I have visited, I have not been to Portugal or Andorra. I plan to change that, first with Portugal. When that time comes, this is how I'll do it:
5 days, 4 nights,
fly into & base ourselves in Lisbon,
spend the majority of time in the Capital,
eat as many pastel de natas, and fish dishes as possible.
There is so much to see and do in Portugal but since this will be my first ever visit, I have decided to stick with the Lisbon area.
---
What we'll do
The first things I google when I plan a trip are: where and what to eat, and if there are any events going on. It's a bit hard to get info on the latter right now but generally speaking, I would search and see if there's any concerts, comedians, football matches (soccer), etc on during the time of our my stay.
---
Where we'll stay in Lisbon
Husband is a Gold or something World of Hyatt member, we usually try to stay somewhere in that group. However, since there are no Hyatt branded hotels in Portugal, we would stay in one of the Small Luxury Hotels of the World (SLH) hotels as they have an exclusive alliance with Hyatt (SLH allows Hyatt members to earn and redeem points). There are only two SLH hotels in Lisbon: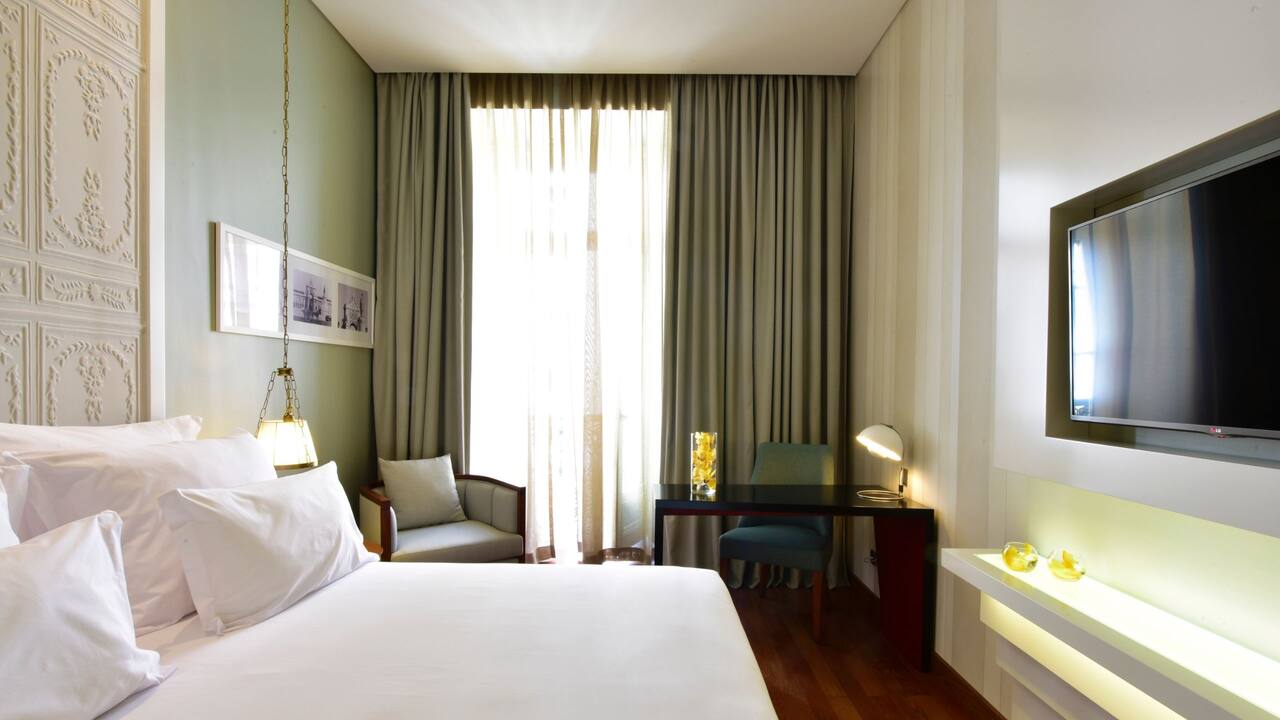 ---
The Itinerary
Day 1: ARRIVE IN LISBON
Fly into Lisbon international airport and head straight to the hotel.
After settling into our room, site-see/wander the streets closeby to the hotel.
For dinner, head to the Time Out Market Lisboa. There are over 25 vendors at this indoor market and I have a list the length of my arm that I want to try. We will likely return to the market later in the trip.
Day 2 – DISCOVER LISBON
AM
We like taking free walking tours early on in our trips because it usually gives us hints & tips for the rest of our stay.
PM
Day 3 – DISCOVER SINTRA
AM
Catch one of the early trains to Sintra. It will take approx 40 minutes. Once we arrive, we need to board the hop-on hop-off tourist bus. I will need to look at the 434 and 435 bus details closer to the time.
Sites to see when in Sintra:
– Park and National Palace of Pena, a Romanticist castle.
– Quinta da Regaleira, classified as a World Heritage Site by UNESCO within the "Cultural Landscape of Sintra."
– Castelo dos Mouros, (The Moors Castle) is a ruinous castle that is set amidst lush forests .
Grab lunch at the famous Piriquita bakery, must try the Travesseiro, "a pastry stuffed with sweet eggs and almond"
I first heard about this place when I saw it featured on Phil Rosenthal's "Somebody Feed Phil" Netflix show (Season One).
Catch the train back to our hotel to rest and freshen up.
PM
Dinner at a Michelin star restaurant.
We do not tend to do many fine-dining restaurants anymore, so this visit would be an exception.
I've short-listed the restaurant to Belcanto or Alma restaurant. Both have received accolades and been featured on TV food shows. I guess the decision will come down to availability and location (to our chosen hotel) closer to the time.
Day 4 – DISCOVER BELEM & ALFAMA
AM:
Catch the (newer) 15 or (older/nostalgic) 28 tram from our hotel to Belém.
Note to self: look out for pickpockets on the trams, they will grab items before exiting closing tram doors.
Catch the tram back to the hotel to rest and freshen up.
PM
Head out to the Alfama district, the oldest neighbourhood of Lisbon, by foot or public transport. I think this area will be do-able without too much of an agenda/itinerary. Roam the streets, if we have the energy, make sure to see:
– the ancient castle of Lisbon
– the Se Cathedral, and
– climb to the top of the National Pantheon, which offers a panoramic views over Lisbon waterfront.
Note to self: cobblestone streets, make sure to dress appropriately.
For dinner back at Time Out Market Lisboa (from day 1) to try places missed the first time.
Day 5 – DEPART LISBON
Depending on what time our flight will be out of the airport, we will plan our day accordingly. We never venture too far before flying so it will most likely be a leisurely breakfast/brunch, and do a bit of souvenir shopping before heading to the airport..
---
My Lisbon Bucket List
☐ Eat at the Time Out Market Lisbon
☐ At at a Michelin star restaurant
☐ Take a cooking class
☐ Visit Sintra, Belém, and Alfama
☐ Ride on the old-style, yellow tram
☐ Try a pastel de nata from at least five different places
☐ Eat seafood once a day
☐ Bring home something locally made (port, wine, olive oil, cork product, etc)
You can see all the above places listed in my Tripadvisor trip: www.tripadvisor.com/Trips/99687152/Portugal
So this pretty much wraps up my plans for Lisbon, Portugal. For now… I wait. If you have been to Lisbon and have any hot tips, or what you think are "must-dos", please drop me a comment to let me know, tia.
As always, thank you for reading.
---
BONUS RESEARCH
If we were to spend two more nights, I would try to stay at the below hotel. The location is a bit out of the way and the town does not have too many things on offer for tourists to do, however, once you read about it and see the pics, you'll know why!
Areias Do Seixo – This hotel is approx 50 minutes drive from the Lisbon airport. They offer a round-trip transfer starting from 175,00 €. How we'll get there is TBA. We will stay at this location for two nights and take advantage of one of their Offers which typically includes two nights stay + food + massage (and yoga in some packages).
All their rooms sound amazing – Love, Gold, Tree, or Land – they ALL look gorgeous! I already picture myself in any of these rooms.
There are three restaurants on site and they all look incredible. Areias Do Seixo boasts that it is a "charm hotel with a strong environmental awareness" and as part of that, they do not have air con in their rooms. So now you know why!